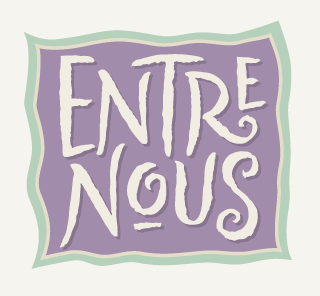 Entre Nous translates to "between us".

Let's work together
I love to collaborate. I've spent my entire career working back and forth with thoughtful, talented designers, shaping their ideas into works of art that we're both proud of. Now, I'd like to work with you, and here are a few of the ways we can do that:
CONCEPTUAL STUDIES THROUGH FINAL ART
Send me the words you want me to work with. Tell me your target demographic. Give me as much, or as little, art direction as you wish. Then I will generate a range of first-round studies. Choose any of those studies, give me more art direction, and I'll create clean vector art for you.
UPDATING AN EXISTING WORDMARK
Let me know how much, or how little, design equity you want to retain, and I will refresh your brand.
VECTOR ART OF YOUR SKETCHES
Send me your lettering sketches (however rough) and I'll create clean vector art for you.
DIGITAL REFINEMENT
Let's say you already have your wordmark in digital form, but you know that it could be improved. Let me take it to the next level. You may want major changes. Fine. Or, you may want only small refinements (because you already have client approval). Fine, again. I always make sure to retain the essence of your design while making the changes. Your clients won't necessarily know what has been changed, but they'll see that it looks better. And you'll be happier using it.
SMALL PROJECTS
Yes, I've worked on a bunch major brands, but don't be afraid to contact me for smaller projects. Let's see what we can work out.
On a personal note, my clients say that I'm easy to work with.
I believe in branding excellence. So give me a call, and let's work together to create the next excellent brand.